In the marketing world, visibility and accessibility are the open doors that lead to engagement and eventual leads.
If you're active on social media platforms like Facebook and Instagram you're already covering your visibility base but, are you making yourself accessible to your audience?
When you make your business accessible for your current, new and potential customers you're advertising that you're available for your client base. And without even realizing, you're developing the very human relationship that all sales are built on!
Especially in these uncertain times when human connection is more important than ever, it's more important than ever to connect with your audience.
Facebook to the rescue!
To help business owners like you turn your followers into customers, Facebook has recently introduced a convenient new feature: Appointments!
What's So Great About The New Appointment Feature?
#1. Convenience Is Key
Because we live in the age of technology, most of us expect convenient methods of reaching out to businesses whether we're a current customer or not. The new appointment feature allows your potential customers to do just that!
This feature allows you to not only be more accessible to current and future clients, it also encourages potential customers to start a conversation with you. Conversations like these are how baby leads are born!
#2. Time Saver
It's a complicated time to be a business owner. Running a business requires money and as the old saying goes, "Time is money." If there's a tool that will allow you to build relationships while simultaneously saving time, it's worth taking advantage of to spare expenses.
The more you can cut down on the back and forth conversation the better. Also, being more organized gives the impression of being professional and trustworthy.
#3. It's FREE!
No explanation necessary! But seriously, take advantage of free tools that will enable communication and lead generation whenever you can.
Read More About The Appointment Feature Here
How to Set Up Your Business Page's Appointment Feature
Step 1: Go to your Facebook Business Profile Page and hover over the blue button to view options and click the EDIT button.
Step 2: Choose "Book with you" option, choose the "Book Now" option directly below it then, click Next
Step 3: Choose the "Appointments on Facebook" option below
Step 4: Once the new window pictured below appears, click "Start Setup"
Step 5: Follow the prompt at the top of the window to set your availability to the days and times you regularly accept appointments or you can choose not to share your availability. If you choose not to, people will still be able to make appointments.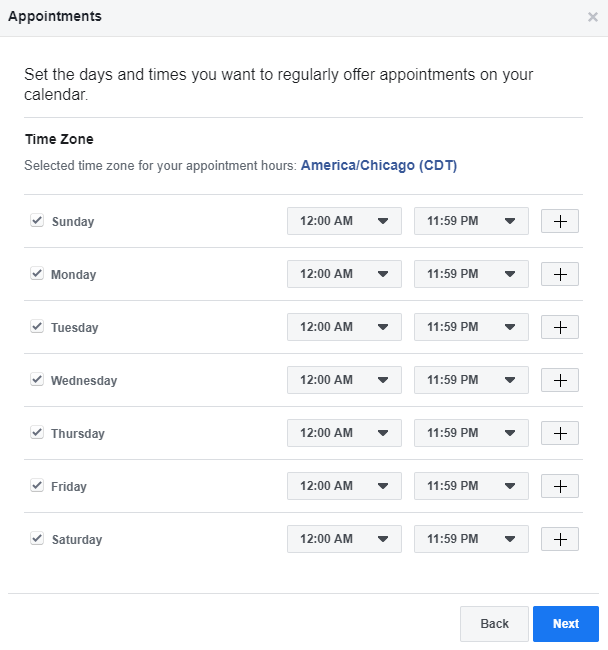 Step 6: Follow the prompt to customize your preferences and click "Next"
Step 7: List your services from the options you've already setup through Facebook, or +Add a Service" via the blue button at the top of the page
Step 8: You're ready to make appointments! You may adjust the Reminders and Follow Up options to your preference and click either "+Add an appointment" or "View Calendar" as both of these options will take you to virtually the same place.
Your Calendar & Adding Appointments
This is how your calendar will look before you've booked any appointments:
To Add an Appointment: Click on the blue plus sign in the bottom right corner then choose what kind of appointment you'd like to make (Personal Event or Appointment)
You will then see a window pop up where you will be able to fill in the necessary information. Once you're done, click create appointment.
What Has Your Experience Been Like?
This is a fairly new feature and there's no doubt that there will be updates in the future but we're curious to know what your user experience has been with this new feature.
Tell us what you think in the comments of our Facebook post or DM us!