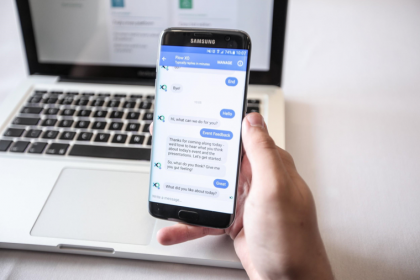 Have you ever interacted with a chatbot on a website or social media ad?
If it's done well, it's a pretty cool user experience.
It sucks when it's done poorly.
Today, we're going to share with you tips & advice on how local jewelers can use chatbots to grow their business.
If you're not using them, listen in.
And if you're already using them, find out what else you could be doing with them!
Show Recap
Our Guest:
I'm excited to be interviewing Rutger Thole of Bluebrand. He's known as "the Bot Father".
You can't find anyone that knows more than he does about chatbots on the face of the earth, so we're excited to have him with us.
What is a chatbot?
Some people don't really understand what we mean by a chatbot. We see live chat and "send message" features on websites all the time, so what exactly is a chatbot?
A bot is a software that can perform specific actions and have conversations with a human.
For example, a user could ask the bot a question or give it an instruction and the bot could respond or perform an action as appropriate.
There are 3 kinds of chat bots:
Rule based / Scripted: behavior is determined by rules. These are the out of the box ones like Manychat, Chatfuel, Podium etc…
Intelligent chatbots are built with artificial intelligence techniques using Dialogflow for example
Application chatbots combo of rule and ai (not for the faint of heart)
A lot of jewelry clients use Podium for texting & reviews, and it's a widget on the site that looks like a chatbot. But is a chatbot the same thing as Podium?
Chatbots can live on various platforms. The chatbots we design and build are all 'messenger" chatbots and are powered by Facebook messenger. We use tools Dialogflow and Manychat to do this.
The webchat feature from Podium seems to be triggered via an email optin and then turns into an SMS chatbot. A great feature for sure. Personally I would want to be able to leverage both SMS and messenger.
What are bots designed to do in terms of easy stuff to complex? And how do these bots connect to Facebook to get your information?
These days messenger bots should focus on delivering customer service as well as enhancing the pre and post-purchase shopping experience.
Messenger bots should be used to deliver proactive customer support, by delivering transactional messages like real-time order updates.
Messenger bots are great to deliver lead magnets next to email and are a great tool to segment subscribers. Based on these segment we should create a laser targeted "micro" campaign that tao into the wants and needs of these segments.
When using messenger bots we are using the Facebook platform, so we are using FB from the get go. The advantage of this is that we are able to connect seamlessly and we can leverage all the data Facebook has from a subscriber.
Talk about tools. Do you need to pay for a program or software, or will Facebook's messenger bot work just fine?
I'm a Manychat fanboy! Get a manychat pro account for $10 per month.
What's the 1 thing everyone should be doing with a chat bot?
Set up a basic customer service flow as described above. Take it from there. Build the base first.
Final Thoughts
If you are not ready to implement and commit. Don't do it. It's not rocket science and we have the templates available to get you started, but if you are not ready, able or willing to follow up with messages you should not get started.
If you are ready to get ahead of your competition and you also believe that offering an exceptional pre and post-purchase experience get on it asap!
Special Offer & Learn More
If you want to learn more about chatbots, join Rutger's FREE Facebook group called Bots & Beers.
Also, stay tuned as Rutger will be offering a FREE starter pack for anyone interested in starting a chat bot!